ABOUT SOWERBY'S TOWING
Sowerby's Towing Toowoomba has been operating for nearly over 40 years. We pride ourselves on our impeccable reputation for getting the job done fast and hassle free. We have now grown to a large number of trucks and service the Darling Downs and South Burnett regions and beyond. We are fully insured and employ quality, well trained and experienced drivers to provide not only professional driving but friendly service.
Sowerby's Towing was purchased in 2012 by Terry & Trish Bellette, who have grown the business beyond. Terry & Trish have extensive knowledge in the towing industry. The company started under Sowerby's Crash Repairs, and it still has a close association, but it is a separate business and proud to hold their trusted name. Sowerby's Towing is run by local, experienced and service-focused staff.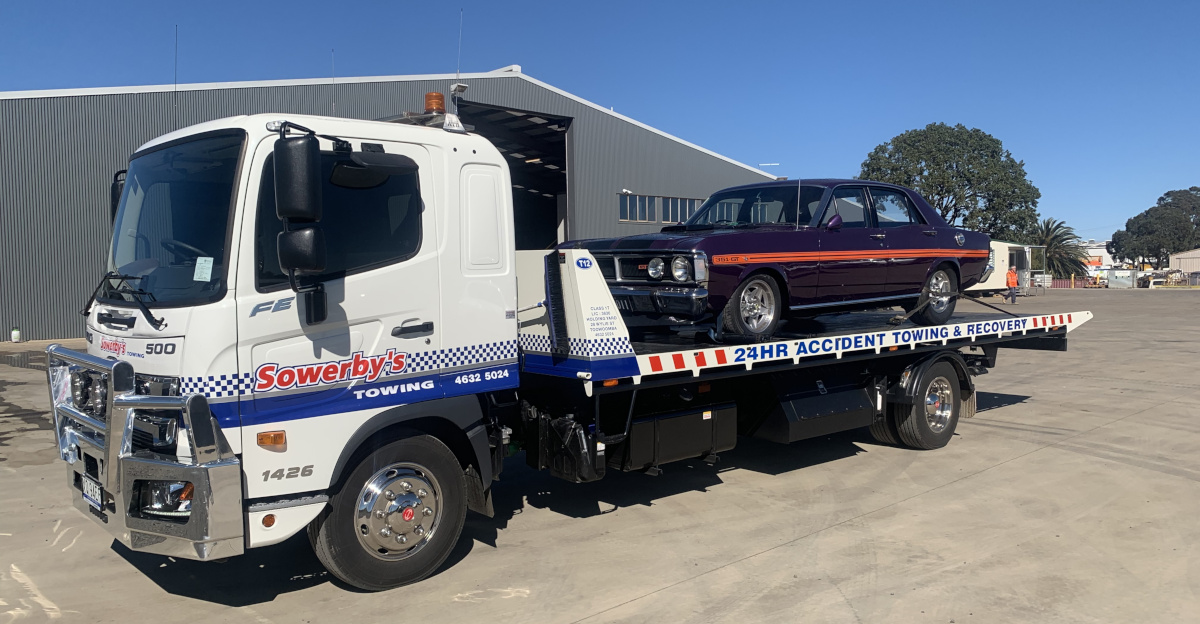 TESTIMONIALS
The team at Sowerbys were a pleasure to deal with. From Aaron onsite at our accident to the ladies in the office the following day, everything was so hassle free. It was fantastic to receive such a high level of service. Our accident occured on the way to collect pizza and not only did Aaron give us a lift back home but detoured to Domino's to pick up our pizza. An absolute legend ! Thanks guys!

My daughter was recently in an accident when this truck took her out wrecked her car. When I arrived at the accident stressed to the max. I found that my girl was being looked after by your company they were bloody amazing they stayed with her supported her talked to her dad because she was so upset spoke to her witness. I can't thank you enough for all you did for her you went beyond your job that afternoon words cannot express how much I appreciate everything you are an amazing company

Awesome service , broke down in my Chrysler out of Toowoomba on Sunday and Jason answered my call . He had a truck to us in 15 minutes , then Aaron the driver took us to his mechanic mate who is going to fix our fan belt today . Highly recommend this business , thanks

This evening i had an incident in the car while driving resulting in me needing to pull over and the back of my car slid in the gravel and my car was stuck. My not so helpful partner decided to leave me and my daughter alone but a lovely couple pulled over to see if we were ok and noticed one of your drivers pulling into the servo across the highway rhe gentleman ran across the high way to ask your driver if we was able to help and he did! Im sorry i can not remember your name but you were amazing and extreamly helpful i can not thank you enough and would highly recommend sowerbys towing to everyone in the future! Thank you so very much!

Kimberley Ashton
Customer
Affordable & Trusted Towing!
Experienced drivers provide not only professional driving but friendly service.
Get A Quote